WhatsApp is very popular messaging app internationally. So what about adding Whatapp link at Instagram bio that will directly open up WhatsApp and start a chat with predefined number? Come on we'll show you how to do that.
The many times asked question: how to create WhatsApp link to Instagram bio has finaly been solved. Adding a link that opens directly WhatsApp app is possible using direct or deep links within igli.me free service. Don't worry it is simple. In our case we want users directly get to the app and starts a chat with a particular number, and that is simple and done in under 7 min's or even less. Let's see how to add WhatsApp link to Instagram bio right now.
1. Create WhatsApp link with igli.me service
Ok, let's create WhatsApp link for Instagram and for that we'll use this free service igli.me. It will create link for us and do all the complex work. Sign in to your igli.me account and create or edit social networks block. If you don't have igli.me account you can sign up in 2 min's right here just make sure you use your Instagram username as your page name when signing up. After login let's create new social network block by selecting "add new block" button.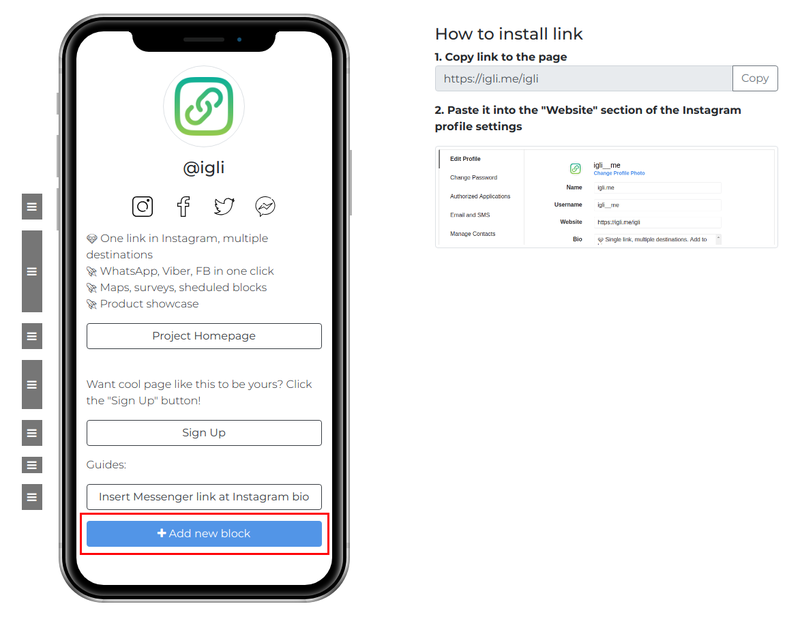 Now we can insert our phone number to block we created. Select "Add" at the popup window, then pick item type "WhatsApp" at dropdown menu, and type your full phone number in "Link, phone or username" input field together with your country code. What is full phone number you may ask? It is phone number that has also the country code and region code if you have one. Also do not add any "+" sign or leading "00". The phone number must start with country code, for example 15551234567. When you finis all the edits press "Create".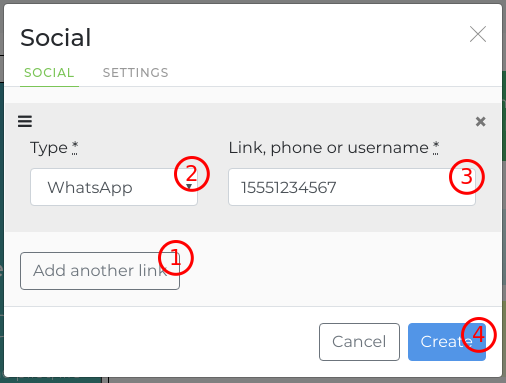 You can add as many WhatsApp (or other social network) links as you like, but for clarity it would be better to add just one link with same "type" at social icon block. It means only one WhatsApp link, only one Facebook link, only one Messenger link at the same Social block. You can add other WhatsApp link at different social network bolck if you want to.
2. Create WhatsApp deep link manually (optional)
Now there is another way to add the link at igli.me and as a result you will get nice button with your text on it, let's create WhatsApp deep link for Instagram bio with specific phone number, for example +123 456 789 012. In order to create your own WhatsApp link for Instagram, let's use this link: https://wa.me/<number> where the <number> is a full phone number in international format. Do not use zeroes, brackets, plus sign or dashes when adding the phone number in international format. If our phone number is +123 456 789 012, including country code +123 then international format of it would be 123456789012. Now the full link for WhatsApp is like this: https://wa.me/123456789012. With a little knowledge it is that simple and if you are not sure if it works we will check it just in a while.
Also if you want to add more than one WhatsApp link with clear info which WhatsApp account the user will reach, then it would be propper to add links by following method. Instead of creating social bolck in previous steps we need the block with a type of a "link".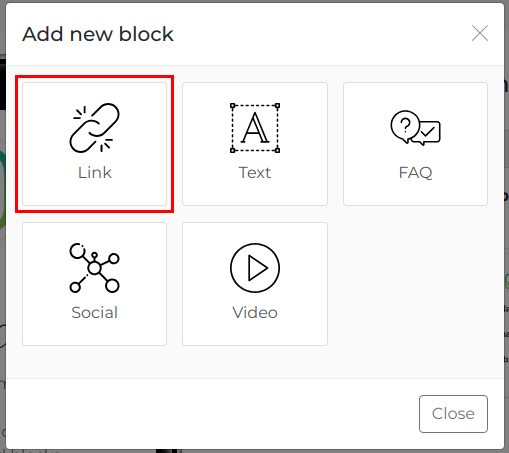 Now the procedure is almost the same except we can name our link anything we want, for example "Sales dept WhatsApp", or "Customer service WhatsApp" or simply "Contact me on WhatsApp". The only thing we have to do is add a link at the "Link" input field - that is your WhatsApp deep link and write not too long "Caption" or name of the link. Hit "Create" and you're good to go. By changing the number at your deep link you can create as many WhatsApp deep links as you need. Remember, that our service is not limited to just creating WhatsApp links, you can add many more links, maps, etc. as you like and your customers will love it.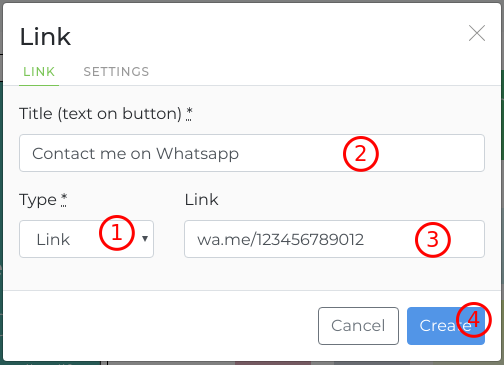 3. Connect Instagram with WhatsApp link at igli.me
If all went well you have created a link or social block and now you need to copy your igli.me profile link and paste it at Instagram bio. Your igli.me link is located at the main page right corner. This is the link you must insert in your Instagram bio so everything works. Press the Copy button next to the link, or copy it manually and go to your Instagram profile settings and paste that link at the "Website" input field. Save Instagram settings and at this point we can say you are ready to drive followers to WhatsApp.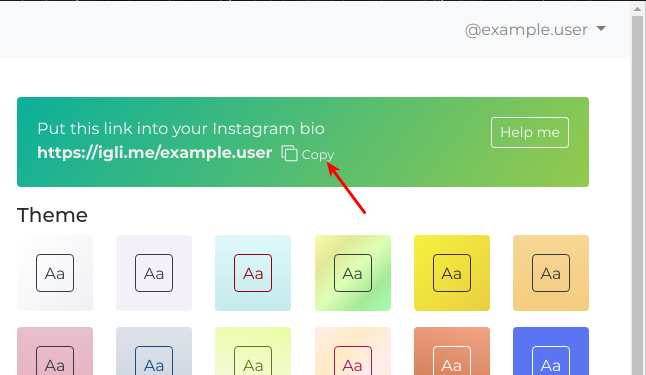 We strongly suggest that you test everything out after setting up all the pieces. To do that you should go to your own Instagram bio and hit the link and then see if you get a page with WhatsApp links. Then press on WhatsApp link and see if it opens the app and starts a chat.
That's about it. If you are stuck at the process, you can always get help at support@igli.me
---
Let's set up your first link
It's free, no credit card required